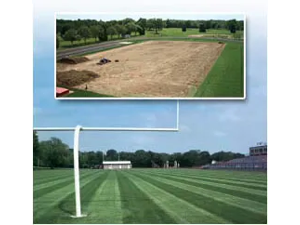 What We Do
Midwest Athletic Fields covers every aspect of an athletic field, from new field construction and renovation, to maintenance and turf care. We are committed to increasing field playability and safety, reducing maintenance time and costs, as well as enhancing field performance and appearance.

We know that regardless of the level of play, the most important factors in your athletic field is a stable surface, proper grade, and durable turf.

Our staff will identify areas of your field that need improvements. We'll create customized solutions to address those areas, while taking into account your budget and organization's needs.

Whether you are a youth organization, school district, community, college, professional club, architect, contractor or other organization you can count on Midwest Athletic Fields for professional, high quality results.